So you're a new business owner, and you've decided to finally pony up and get your self some digital real estate on the Internet. This is an exciting step! Your first website is a huge step to take in the success of your business, whether online or not.
Being a new business, of course you want a website that looks great, responsive on mobile, SEO-optimized, all that good stuff. Buuuttt, being a new business, you don't exactly have the cash flow to be spending thousands of dollars on your shiny new website.
So you do what many thousands of people before you have done, fire up Google and do a search for for "cheap website design". In fact, this is one of the more popular searches on Google, which you can see form this screenshot from Ubersuggest. Solid idea, right?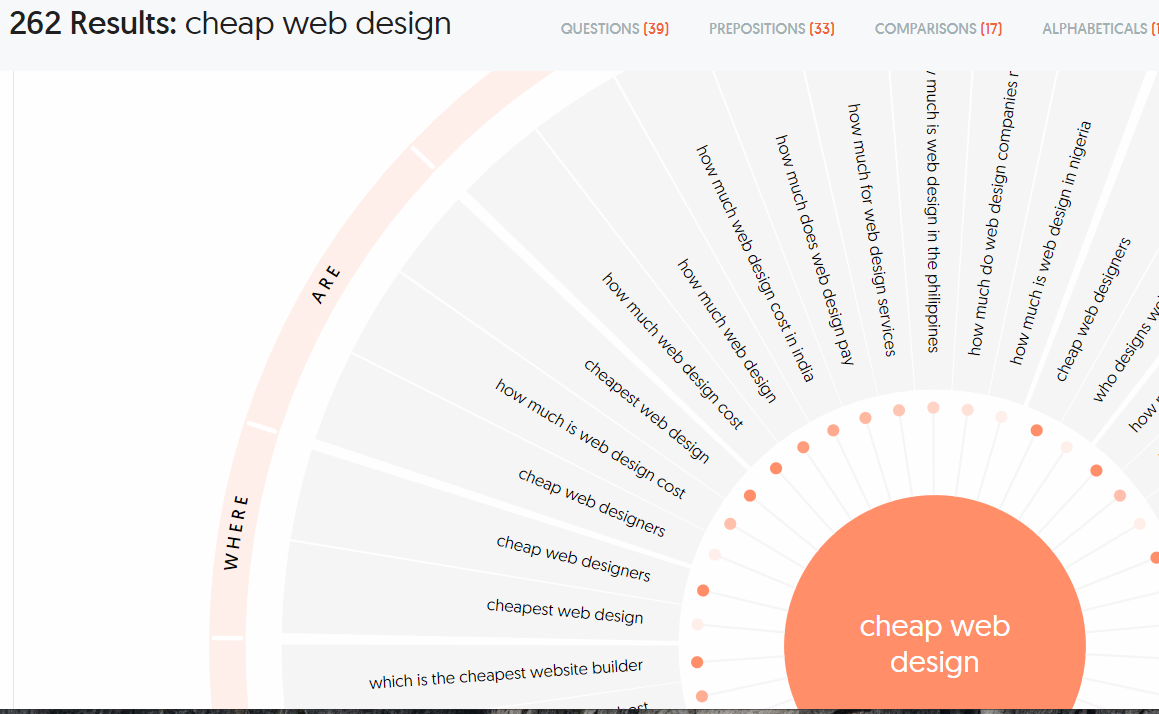 Well, it could be. Depending on the agency you end up with. But in the initial stages of securing a designer, it can be difficult to determine the level of quality they will be putting into the finished product.
And with a website, there are so many factors to consider, beyond just looking visually attractive. I'm going to go into some of these below.
A Quality Website Takes Time
Many people don't really understand the amount of time it takes to build a website from scratch. There is considerable time spent in simply listening to the client, and understanding what their needs are.
Then comes the task of implementing all of these ideas into a coherent design that looks great and runs smoothly.
Of course, there are tools today that can speed up this process, such as pre-built templates. And if someone is charging you less than 400$ for a website build, you can bet this is the route they're going with.
But is that really what you want as a client?? I mean, your website is the first thing a potential customer notices about your brand, and you need to leave a good impression.
Additionally, there are so many factors that go into a quality website, most of which you don't actually see when visiting the site. Your pages need to be optimized for mobile devices. There needs to be a coherent internal linking plan for your pages. Your copy should be optimized for SEO. Your images should be compressed, or reduced in size, and served using modern formats such as webp. These are all things that as a customer, you won't necessarily see.
So if your website is slow, not optimized for mobile, or doesn't follow modern design principles, that visitor is not going to convert into a sale. So what you're really looking for is value. You want a website at low cost, but one that doesn't compromise on quality and design.
Don't settle for Cheap Web Design
When you pay a bit more for a quality web designer, you will get all these things and more. A website that is designed for mobile first, optimized for speed, and designed according to the latest industry trends.
And the reality is, if you're looking for a cheap web designer, they just wont have the time to put the effort into creating a quality product, if they're only getting paid $300.
So really, it's a question of investment. When you make an investment, you do so with the idea that is going to pay dividends later; that it will increase your net worth. It's the same with a website. Spending more money up front will go a long way into giving your new business the head start that it needs.
Benjamin Franklin once said: "The bitterness of poor quality remains long after the sweetness of a low price is forgotten". This could not be more true in regards to web design.
Why Do I recommend Affordable Web Design?
Oxford Dictionary defines "affordable" as 'inexpensive, reasonably priced'. So while you do need to take into account your budget when building your website, that doesn't necessarily equate to value.
Value can refer to a quality product or service, but priced a bit lower than the market. In this designer's opinion, affordable is the sweet spot that you want to look for when choosing a design agency. It is well worth it to shell out a little bit more, but have a product that you're proud of and will help push your business forward for years to come.
And if you've read this far, you are probably looking for just such a designer right?? Check out my services page to see my current pricing for different website (promotional or E-Commerce). Or, feel free to contact me by filling out the form, or dropping me a line.